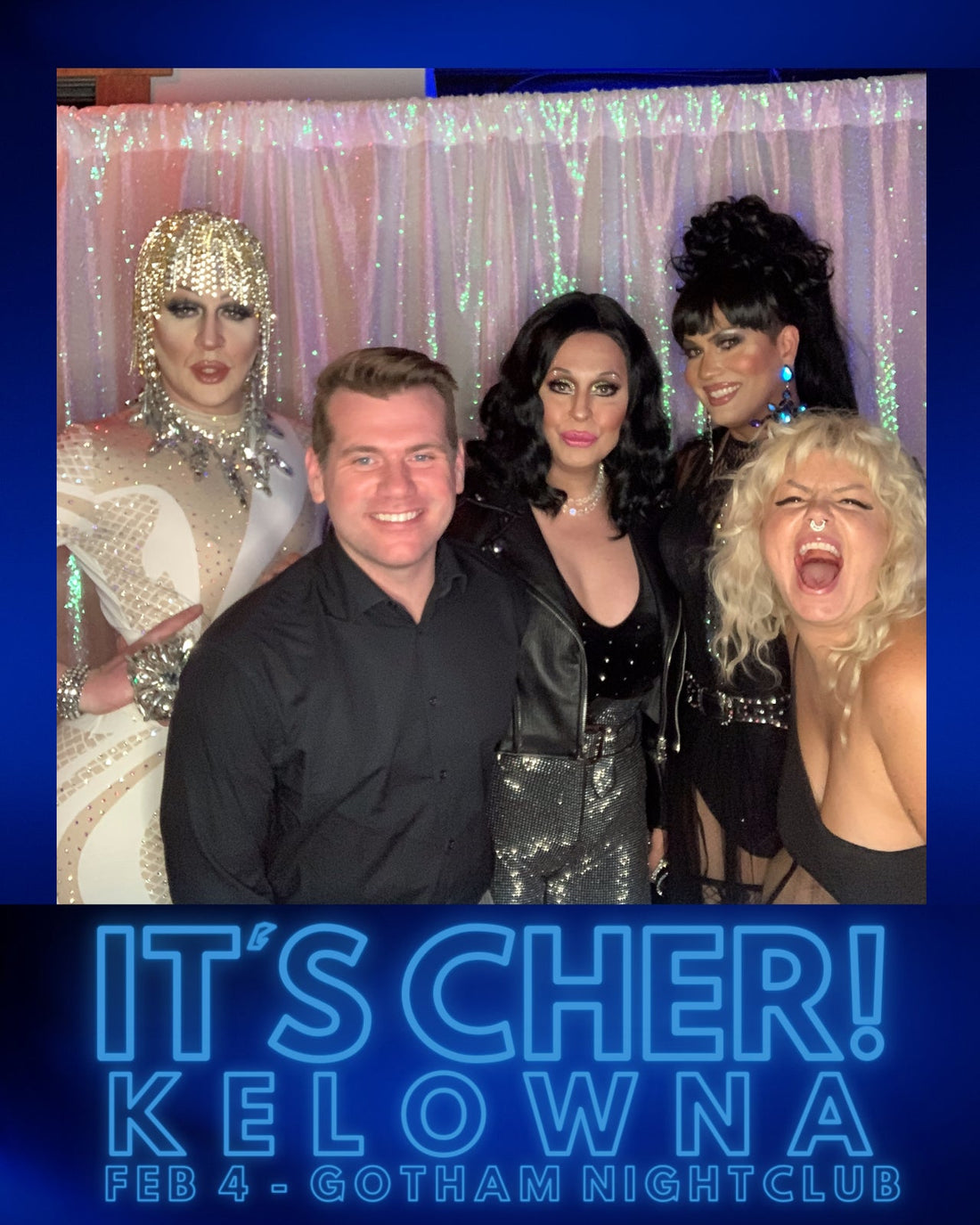 The world of drag is one that's always changing and evolving, with performers taking inspiration from a wide range of cultural icons to create unforgettable experiences for their audiences. One such cultural icon is none other than the legendary Cher, whose music, style, and attitude have inspired drag performers for decades.
Recently, Kamloops and Kelowna had the pleasure of hosting two Cher-themed drag shows, featuring some of the most talented and exciting performers in the scene today. These shows were held at NightShift on 5th in Kamloops on February 2nd and Gotham Nightclub in Kelowna on February 3rd, and they were both wildly successful, drawing huge crowds and leaving audiences absolutely thrilled.
DID YOU MISS OUT?!? Catch the recording of the Kelowna Cher show exclusively on Unicorns.LIVE - start with a free 7 day trial.
The performers who brought Cher to life on stage were Jaylene Tyme from Vancouver, Farrah Nuff from Calgary, and Ella Lamoureux from Kelowna. These three drag queens are known for their incredible energy, showmanship, and charisma, and they did not disappoint when it came to their Cher-themed performances.
The Kamloops show, in particular, was an absolute highlight of the evening, with nearly 400 people in attendance and a level of energy and excitement that was truly off the charts. The crowd was totally engaged throughout the performance, cheering, clapping, and singing along to some of Cher's greatest hits, including "Believe," "Strong Enough," and "If I Could Turn Back Time."
Of course, the performers themselves were also a major part of the show's success. Jaylene Tyme, Farrah Nuff, and Ella Lamoureux each brought their own unique style and flair to their Cher-inspired looks and performances, showcasing their impressive range as drag artists.
It's worth noting that among the performers who brought Cher to life on stage in Kamloops and Kelowna, Jaylene Tyme and Farrah Nuff are widely regarded as two of the best Cher impersonators in the country. Jaylene Tyme, in particular, has gained a reputation as one of the most talented and polished Cher performers in Canada, with her stunning costumes, flawless makeup, and incredible stage presence. Meanwhile, Farrah Nuff has become known as the go-to Cher impersonator in Alberta, wowing audiences with her powerful voice, striking looks, and impressive attention to detail. Together with Ella Lamoureux, these performers truly brought Cher to life in ways that were both authentic and utterly dazzling.
Overall, these Cher-themed drag shows in Kamloops and Kelowna were a huge success, showcasing the incredible talent and creativity of some of the best drag performers in the scene today. Whether you're a longtime Cher fan or simply someone who appreciates the art of drag, these shows were an absolute must-see, and they're sure to be talked about for months to come.
Subscribe to our newsletter and receive a selection of cool articles every weeks