Drag Brunch Enderby Media Release (January 9th, 2023)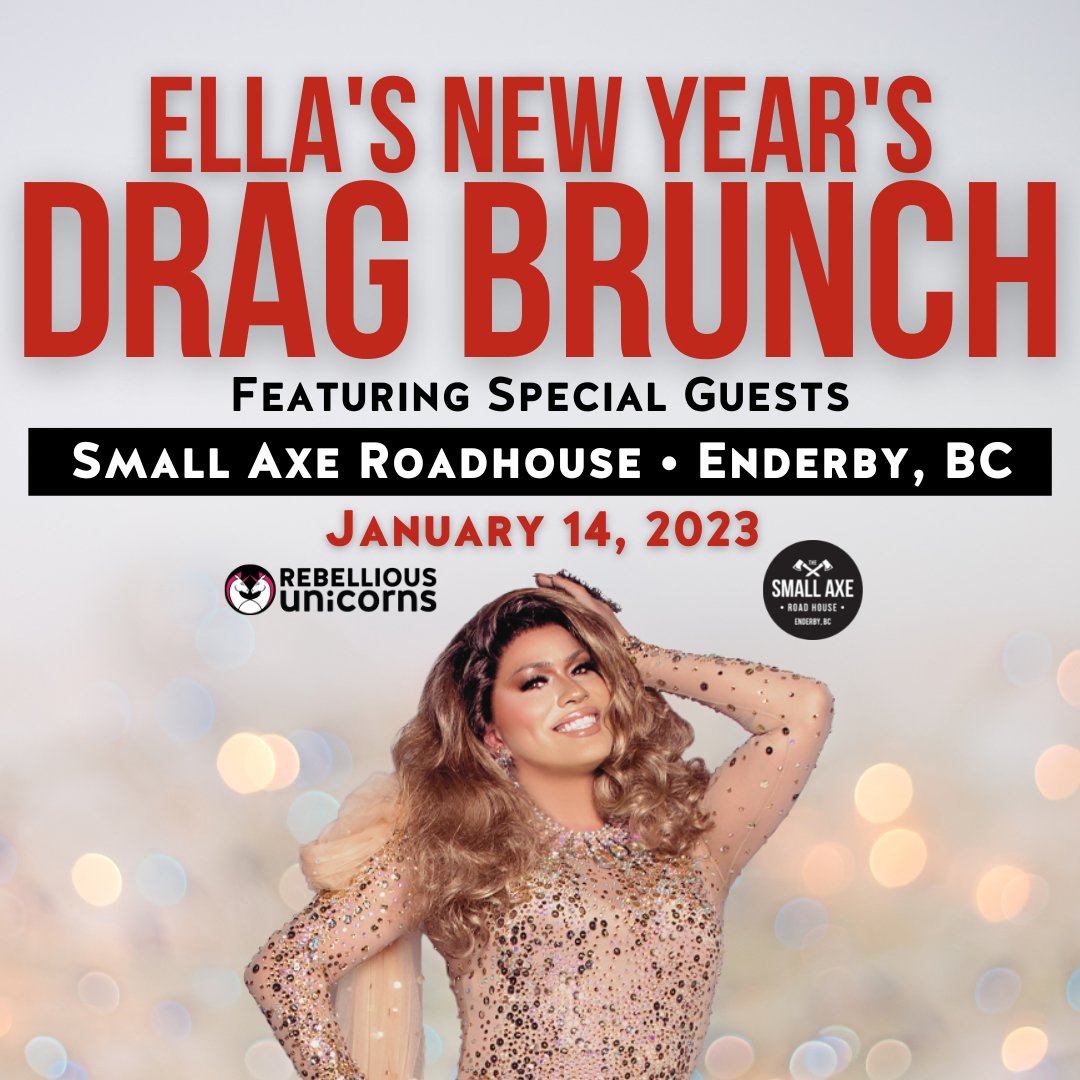 January 9th, 2022
Enderby! Ella's Drag Brunch is back at The Small Axe Roadhouse!
It might be a new year, but it's the same old Ella, and that's how we like it.
[Enderby, BC - January 14th, 2022] With a string of sold out events under our belt, we're back again at the Small Axe Roadhouse for another fabulous drag brunch! Taking place January 14th at 11:30am at the Small Axe, Ella Lamoureux is back to entertain and delight, and she's bringing Kelowna favorite Alexa Nerezza with her!
Alexa and Ella are so excited to entertain Enderby once again and have chosen some of their favorite numbers for the occasion. Drag Brunch is a great event which combines food and live performances into one enticing package. Tickets for the event usually begin at $25, but unfortunately, this event is already sold out!
"We're so excited for another sold out show in Enderby," shares Dustyn Baulkham, Executive Producer of Rebellious Unicorns, "Enderby always shows up with energy and excitement for the show, and the Small Axe provides an amazing venue and food!"
Lucky for those that missed out this time, we've just released tickets to the follow-
 event on April 15th, so you're in luck! Be sure to follow us on socials to hear about all our events, and check out our website at rebelliousunicorns.com for tickets, show info and more.
###
About Rebellious Unicorns:
Rebellious Unicorns is an Okanagan-based 2SLGTBQ+-focused event and production company. With over five years of experience in event planning, RU has become a backbone of the 2SLGTBQ+ landscape in Canada. Our feature events include Fruitcake, a dance party series, Peak Pride, a mountain-based Pride Festival (hosts: SilverStar, Sun Peaks, Mt. Washington, Red Mountain), and the MX, a queer networking event. With multiple new projects in the works, including a stage show and music event series, RU is poised to continue growing well into the future. For more information and event details, visit Rebelliousunicorns.com
Ella Lamoureux
Ella Lamoureux is one of the founding performers of the Kelowna drag scene. From Kelowna's Next Drag Superstar drag competition, Embodiment, #2muffs1collr, to recent star on Call Me Mother Season 1, Ella has carved out her place as one of the most influential and stunning drag performers in Kelowna. A makeup artist by trade, Ella will eternally tease you with her beauty. But, watch out if you displease her — that tongue is quick and sharper than you think! She's generally "as sweet as cherry pie" and she brings so much love and joy to the community. A true charmer, Ella Lamoureux is Kelowna's Sweetheart.
Alexa Nerezza
A veteran of the Kelowna drag scene, Alexa Nerezza is known for her punk rock style, anything with spikes, and her love of horrible dad jokes. A proud trans woman, Alexa is a regular performer at Friends of Dorothy Lounge!
Subscribe to our newsletter and receive a selection of cool articles every weeks