It's CHER! Drag Show: Media Release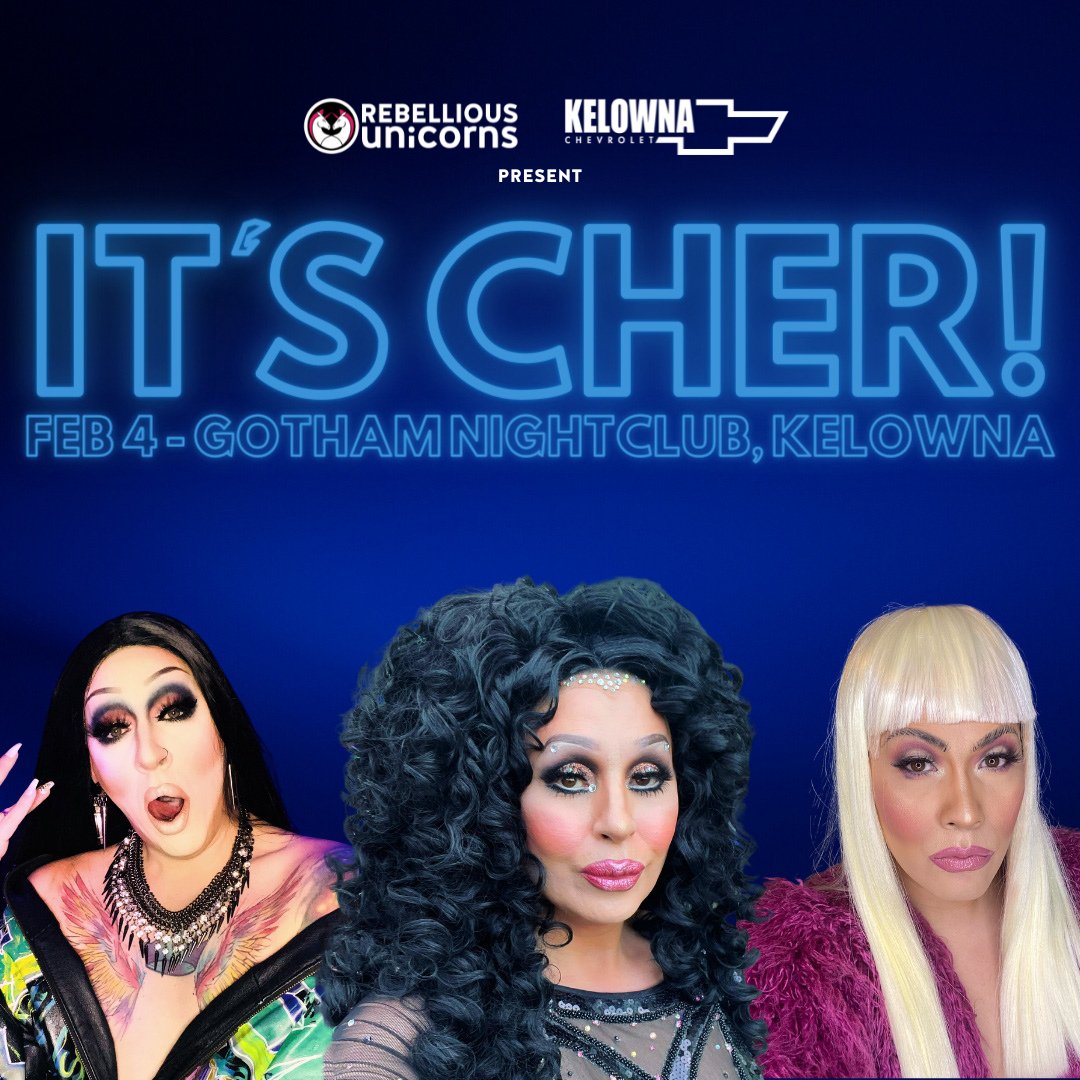 Rebellious Unicorns
Dustyn Baulkham
1-250-826-7197 x299
dustyn@rebelliousunicorns.com CC. christian@rebellliousunicorns.com
January 23rd, 2023
Kelowna! The Goddess of Pop has commanded her disciples to perform for you.
Join Jaylene Thyme, Farrah Nuff and Ella Lamoureux for a Cher themed spectacular, only at Gotham.
[Kamloops, BC - February 3rd, 2023] Rebellious Unicorns is pleased to announce It's Cher! our upcoming Cher theme drag tribute show. The event takes place one night only on February 4th, 2023 at Gotham Nightclub, and begins at 8:00PM.
Headlining the talent for the show is one of Canada's premier celebrity impersonators in Jaylene Thyme! Complimenting her will be Calgary's dancing queen, Farrah Nuff, and everyone's favorite local two spirit goddess, Ella Lamoureux. All three artists have reached deep into their costume bags and have picked a variety of Cher inspired song and dance numbers to perform for the show.
Tickets for the show are general admission, and are just $25. A ticket to the event also includes cover charge for the club, so once the show is done, feel free to stay and dance the night away!
 Get your tickets and all the info at rebelliousunicorns.com.
###
About Rebellious Unicorns:
Rebellious Unicorns is an Okanagan-based 2SLGBTQ+-focused event and production company. With over five years of experience in event planning, RU has become a backbone of the 2SLGBTQ+ landscape in Canada. Our feature events include Fruitcake, a dance party series, Peak Pride, a mountain-based Pride Festival (hosts: SilverStar, Sun Peaks, Mt. Washington, Red Mountain), and the MX, a queer networking event. With multiple new projects in the works, including a stage show and music event series, RU is poised to continue growing well into the future. For more information, contact Dustyn Baulkham at 1-250-826-7197 x299, or by email dustyn@rebelliousunicorns.com.
Jaylene Tyme
As one of Canada's premier celebrity impersonators, Jaylene Tyme brings glamour and sophistication to her uncanny character portrayals. A beloved mainstay in Vancouver's Drag family, Jaylene is a proud two-spirit indigenous trans woman and leader within the LGBTQ2S+ community. She holds the title of Empress 35 of Vancouver BC and is Heir Apparent- 1st in line of succession to Queen Mother I of the Americas- Empress Nicole the Great. 
She believes that it is important to celebrate the power of community by contributing to the energy of our world with passion and positivity. Together with each other, we have the opportunity to inspire and educate.  Our identities, beautifully diverse and wonderfully unique.
Farrah Nuff
Calgary's dancing queen, Farrah has been gracing the stage as a performer for nearly 20 years, fifteen as a drag entertainer. Co-owner of HireHeelsYYC, her passion for performing and the well being of her fellow performers, Hireheelsyyc brought smiles and joy to thousands of Calgarians through curb side drag shows throughout the recent pandemic.  The matriarch of the Nuff family, she believes in the importance of shared experience and togetherness within art. 
You can catch Farrah all over Calgary, Instagram, Twitch, and in your dreams! 
Ella Lamoureux
Ella Lamoureux is one of the founding performers of the Kelowna drag scene. From Kelowna's Next Drag Superstar drag competition, Embodiment, #2muffs1collr, to recent star on Call Me Mother, Ella has carved out her place as one of the most influential and stunning drag performers in Kelowna. A makeup artist by trade, Ella will eternally tease you with her beauty. But, watch out if you displease her — that tongue is quick and sharper than you think! She's generally "as sweet as cherry pie" and she brings so much love and joy to the community. A true charmer, Ella Lamoureux is Kelowna's Sweetheart.
We respectfully acknowledge that this event takes place on unceded Secwepemc territory." 
Subscribe to our newsletter and receive a selection of cool articles every weeks