QUSIC Jan 26th at Junction: Media Release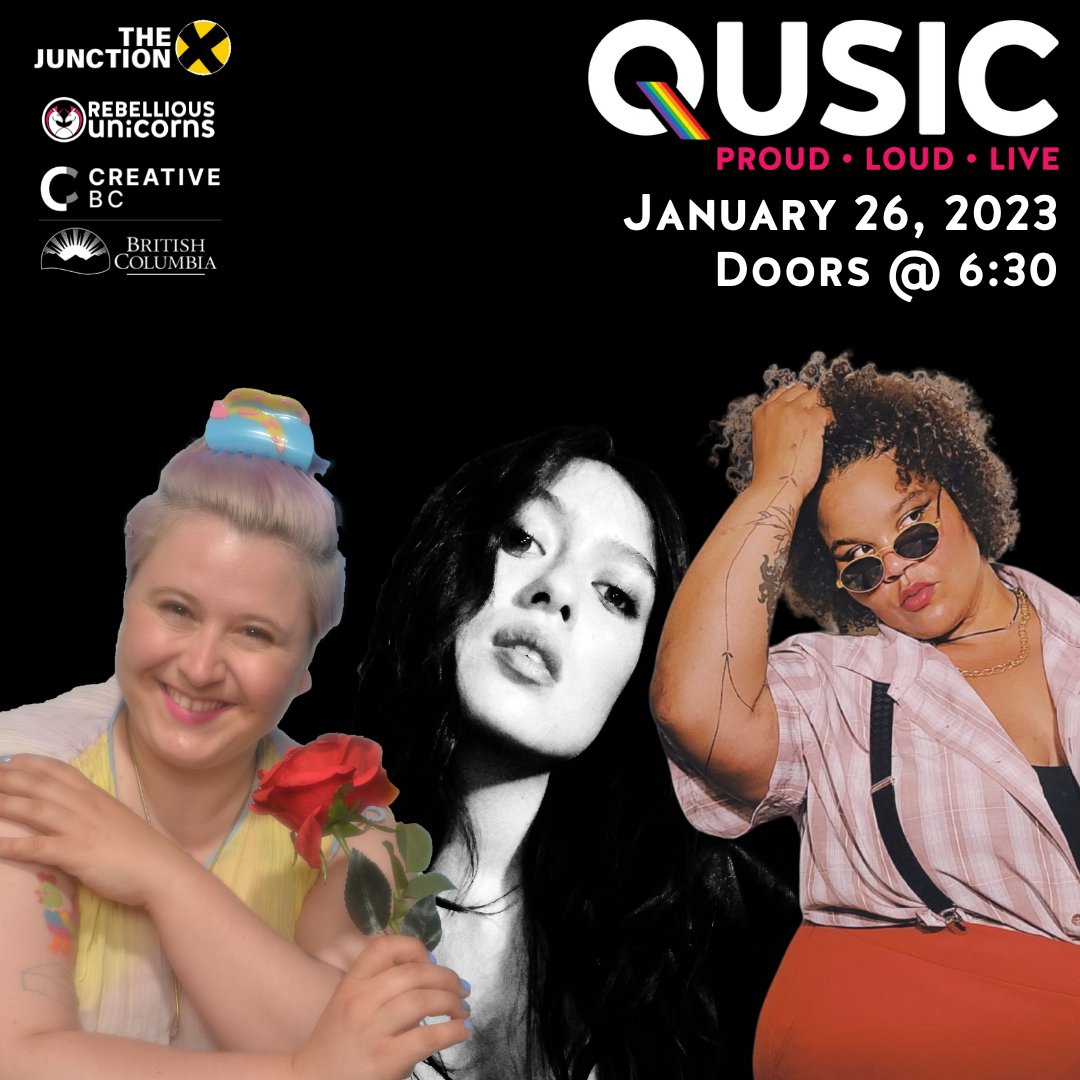 Rebellious Unicorns
Dustyn Baulkham
1-250-826-7197
Jan 12th, 2023
QUSIC: The 2SLGBTQ+ music showcase is happening at Junction on January 26th.
The show will be headlined by Vancouver favorite Leo D.E. Johnson, and features performances from Carolina Van Thillo and Future Star.
[Vancouver BC - January 26th, 2023] — Rebellious Unicorns is pleased to present QUSIC, in partnership with The Junction happening on the evening of January 26th at 7PM. This month's show is headlined by local Vancouver artist Leo D.E. Johnson, and will also feature performances from established artist Future Star,  and up and comer Carolina Van Thillo! QUSIC is a queer music series supported by CreativeBC and created by Rebellious Unicorns that aims to showcase the myriad of talented artists that identify under the 2SLGBTQ+ banner. 
"I'm so excited to be hosting another QUSIC at the Junction" says Dustyn Baulkham, creator of the series. "We're excited to build on the success of the last two shows at Junction, with an eye towards making QUSIC a monthly showcase at Junction where queer artists can perform and hone their talent".
Local Vancouver favorite Matthew Presidente has worked hard to curate an exceptional line-up of 2SLGBTQ+ talent for this editing of the event. Tickets for the show start at just $10, and can be purchased online from our website at rebelliousunicorns.com
Want a taste of what the show will sound like? Check out our QUSIC Spotify playlist, which highlights all of the artists included in this show, among many others we've worked with before. Playlist!
QUSIC is made possible with the support of Creative BC and Junction.
Tickets, info and more details about everything QUSIC are available on rebelliousunicorns.com
**If you or someone you know identifies as 2SLGBTQ+ and are looking for a space to perform, QUSIC is always seeking new talent! Fill out this form!
###
About Rebellious Unicorns:
Rebellious Unicorns is an Okanagan-based 2SLGBTQ+ focused events and production company. With over five years of experience in event planning, RU has become a backbone of the 2SLGBTQ+ landscape in Canada. Our feature events include Fruitcake, a dance party series, Peak Pride, a mountain-based Pride Festival (hosts: SilverStar, Sun Peaks, Mt. Washington, Red Mountain), and the MX, a queer networking event. With multiple new projects in the works, including a stage show and musical event series, RU is poised to continue growing well into the future. For more information and event details, visit Rebelliousunicorns.com
About QUSIC:
QUSIC is a 2SLGBTQ+ Artist Music Series, produced by Rebellious Unicorns Production Company Inc., in which all presenting artists must identify under the 2SLGTBQ+ spectrum. This innovative series celebrates the 2SLGBTQ+ community, which includes individuals who identify as lesbian, gay, bisexual, transgender, queer and two-spirit as well as a range of other gender and sexual identities. QUSIC features solo performers, duos or group acts, provided that the headlining artist identifies as 2SLGBTQ+. QUSIC supports the growth and development of the Canadian music industry, highlighting artists who identify as 2SLGBTQ+. The music series invests in Canadian talent and will help to grow awareness of 2SLGBTQ+ musical artists, and help to put money in their pockets so that they may continue to pursue their dreams and follow their passions.
Leo D.E Johnson (They/Them) is a Black Scotian, Queer, Non Binary, Community driven artist, and the Soul of East Vancouver Canada! Serving you black empowerment, delivered with a Rock n Roll kick! Fueled by electrified healing lyrics and raw vocal Power! D.E brings you a healing Soulful rasp reminiscent of Little Richard and a heart filled delivery much like the beloved Britney Howard of Alabama Shakes.

Leo D.E Johnson gives you their take on what it is to be a human in this world. Sit back and enjoy the reflection!
Carolina Van Thillo (she/her/hers) is a half Belgian, half Filipino songwriter who delves into the realms of alternative rock with her music. Initially having moved to Vancouver to study film, she is now focused on her music and bringing her work to life. 
Her music is an expression of her past struggles and the exploration of herself within the world she grew up in. With her songs, she seeks to release her repressed emotions and reclaim the autonomy of her identity as a queer biracial woman.
Future Star has developed a following in their local D.I.Y music scene, with a reputation for creating intimate performances "[...]loaded with understated significance and beauty." (Exclaim! magazine, Jun. 7, 2022). Driven by keyboard hooks, catchy vocal melodies, and lyrics that aim for the heart and rarely miss, Future Star has been exploring the intricacies of human emotion since 2016. Their most recent two albums are a call and response - "When Will The DJ Of Luv Grant Me My 1 Request" (Kingfisher Bluez, Feb. 2021) tells a story of queer longing and loneliness; and the followup "All Of These Songs Are About You (None Of These Songs Are About Me)" (self released, Nov. 2021) is a cycle of love songs written for their partner. Expect big things from this bright light in 2023 - Future Star is currently working on a new album with anticipated release this year.
Subscribe to our newsletter and receive a selection of cool articles every weeks