MEDIA RELEASE: Burlesque @ Blind Tiger Winery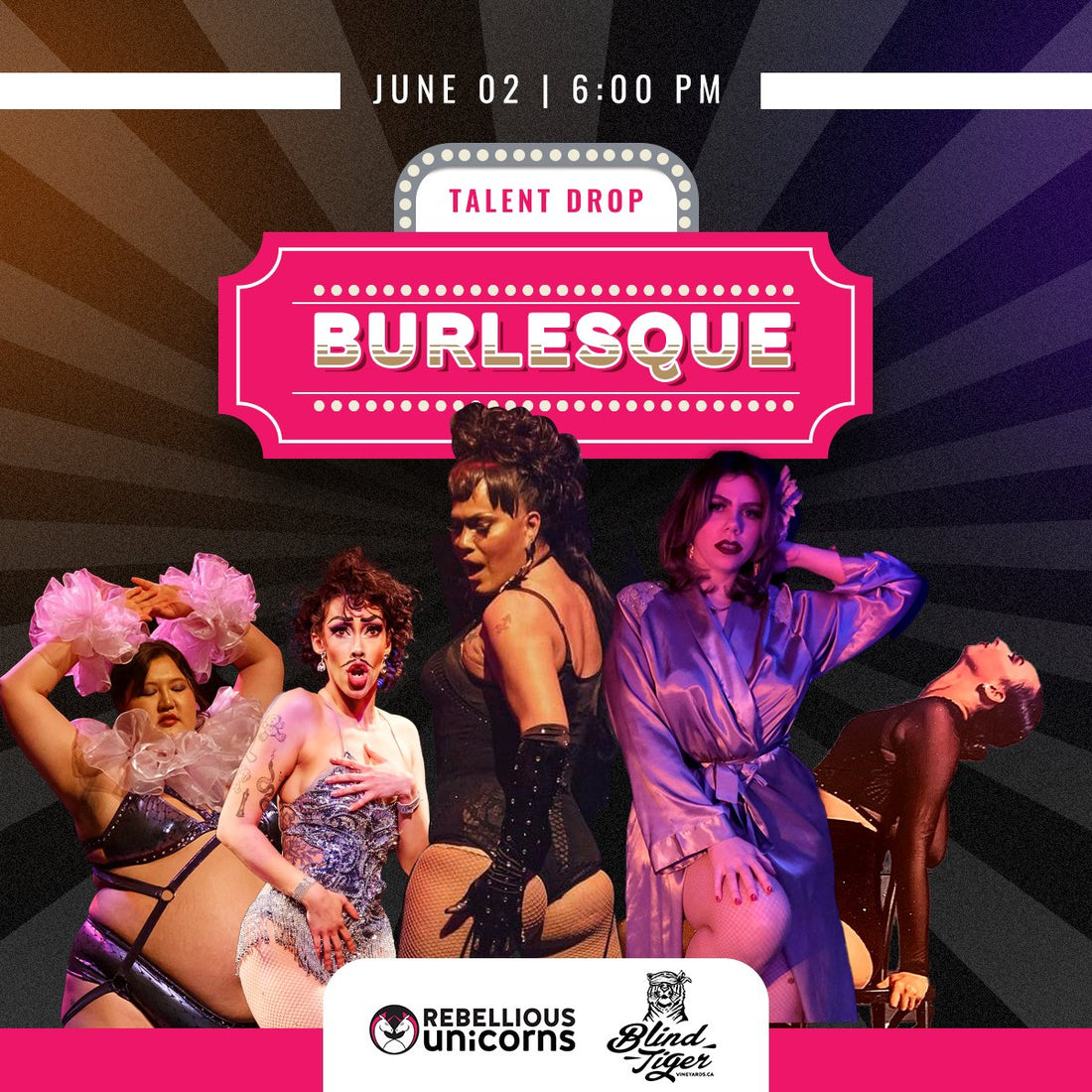 BURLESQUE AT BLIND TIGER WINERY: AN UNFORGETTABLE & UNOFFICIAL KICK OFF TO KELOWNA PRIDE WEEK
Kelowna, BC - May 31, 2023 - Rebellious Unicorns is proud to present Burlesque, at Blind Tiger Winery, an extraordinary live performance event set to take place on June 2, 2023. With only a few tickets left, this highly anticipated event promises to be the unofficial kick-off to Kelowna Pride week, showcasing a diverse and talented cast of 2SLGBTQ+ performers in an outdoor venue with stunning views of the Okanagan.
Burlesque at Blind Tiger Winery brings together an exceptional lineup of performers who are ready to captivate audiences with their unique artistry and mesmerizing acts. This night of glamour and enchantment features Tintina Tundra, known for her seductive moves and charismatic stage presence, along with the magnetic and fierce Mother Girth. Adding a touch of ethereal beauty to the evening, Genesis will showcase her stunning aerial routines, while Kylee Elizabeth will grace the stage with her sensational dancing skills. Guiding the audience through this thrilling journey of self-expression and empowerment is the fabulous host, Ella Lamoureux.
The outdoor venue at Blind Tiger Winery provides an enchanting setting for Burlesque as guests will be able to revel in the atmosphere while being surrounded by the beauty of the starlit night sky. With limited tickets still available, attendees can look forward to an intimate experience where they will be able to connect with the performances on a deeply personal level.
"We are thrilled to present Burlesque at Bling Tiger Winery, kicking off Kelowna Pride week in style," said Dustyn Baulkham, Executive Producer @ Rebellious Unicorns. "This event celebrates the rich diversity of talent within the 2SLGBTQ+ community and aims to provide an unforgettable evening of entertainment for everyone attending."
Burlesque at Blind Tiger Winery is a testament to the winery's commitment to inclusivity and promoting the arts. Rebellious Unicorns & Blind Tiger Winery invites guests from all walks of life to come together and revel in the beauty and power of self-expression, while celebrating the vibrant spirit of Kelowna Pride.
Tickets for Burlesque are available for purchase online at the Rebellious Unicorns website, but act fast as there are only a few tickets remaining. Don't miss out on this sensational event that promises to be an extraordinary evening of glamour, talent, and celebration.
Event Details:
Date: June 2, 2023
Time: Doors open at 6:00 PM, Show starts at 7:00 PM
Location: Blind Tiger Winery, Lake Country, BC
Ticket Information: Available at https://unicorns.link/burlesque-lake-country
For media inquiries, please contact:
Dustyn Baulkham, Executive Producer
Phone: 778-262-0375
Email: dustyn@rebelliousunicors.com
About Rebellious Unicorns:
Rebellious Unicorns is an Okanagan based 2SLGTBQ+ focused events and production company. With over five years of experience in event planning, RU has been a become a backbone of the 2SLGTBQ+ landscape in Canada. Our feature events include Fruitcake, a dance party series, Peak Pride, a mountain based Pride Festival, and QUSIC, a queer live music series. With multiple new projects in the works, including a stage show and musical event series, RU is poised to continue growing well into the future. For more information and event details, visit Rebelliousunicorns.com
Subscribe to our newsletter and receive a selection of cool articles every weeks