Celebrate Unicorn Day with extra $ 🦄 !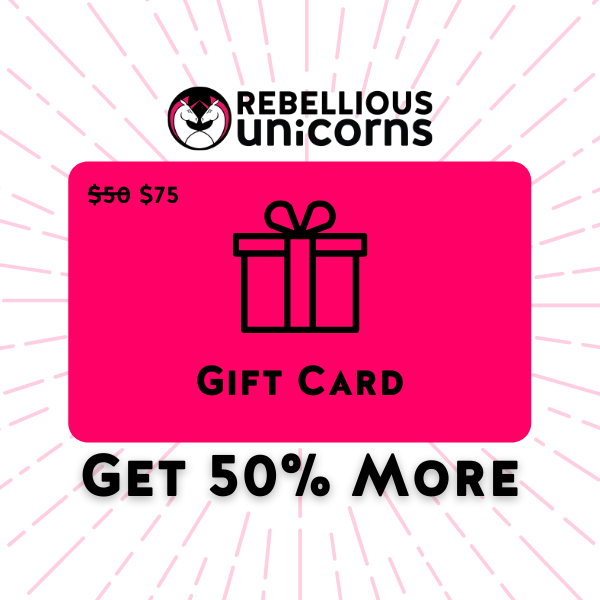 We might not be a rich prince, but we're about to give you a chance to earn some free money! Introducing our Unicorn Gift Card (cheeky name coming soon). 
That's right, we have gift cards now! To celebrate, we're offering you a deal. Pick up a Gift Card during the month of April, and we'll give you a 50% bonus on the amount you spend. $100? More like $150 am I right!? 
Planning on attending one of our events in the future? This is a great way to get a discount as gift cards can be used towards event tickets. Not to mention you'll earn some rewards from our upcoming loyalty program (keep your eyes peeled for that, it's gonna be cheeky and awesome). These rewards can be used right back at the Unicorn store for tickets and even merch - especially exciting as we're launching a new pronoun line of merch just in time for Pride! 
Since we're already in the sharing mood, here's a bit of behind-the-scenes. We're working towards some exciting new events and projects, including more FruitCakes, comedy shows, concerts, and some secrets we can't divulge yet ;). One of the things we need to do all that though is cold hard cash in our bank account. Gift Cards are one way for us to get that extra capital to make these events as epic as possible! 
Gift Cards never expire, and act as a get out of jail free card. Ok, the last one is a lie but you get the idea. If you're planning on attending events in the future, consider picking one up for yourself or as a gift for friends.
We can't thank you enough for all the support.
All the best,
-Dustyn
PS - we also have Apple Wallet integration so you can use these Gift Cards in-person at our events for say… adult beverages and such! 
Subscribe to our newsletter and receive a selection of cool articles every weeks