MEDIA RELEASE: Come one, come all, to Peak Pride's star-studded season kick-off weekend.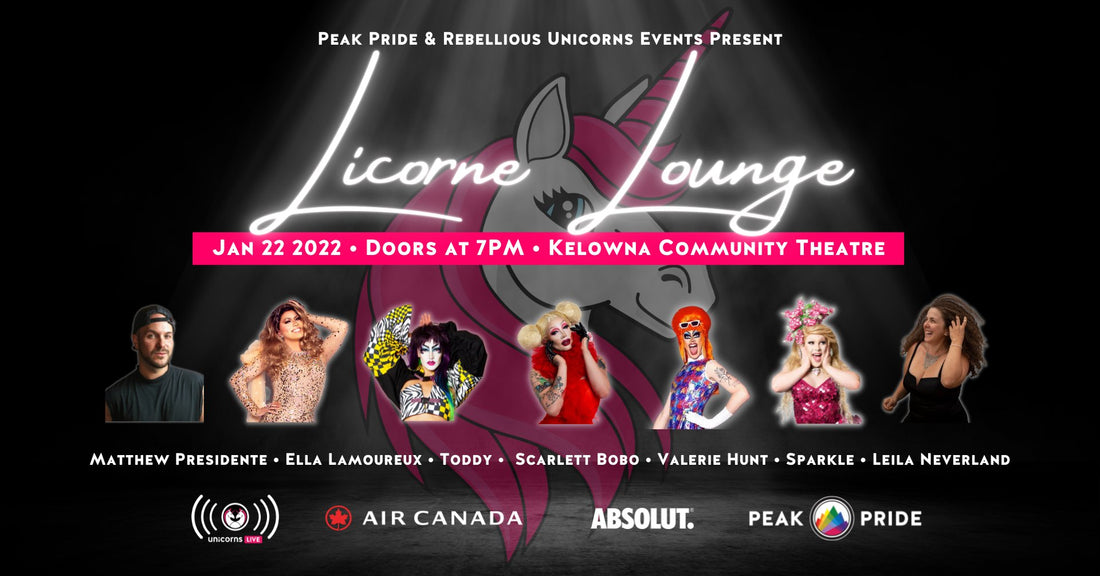 Come one, come all, to Peak Pride's star-studded season kick-off weekend.
Kelowna - This Saturday and Sunday, Rebellious Unicorns and Peak Pride present a star-studded two-event weekend full of high-energy performances. First, taking place at the Kelowna Community Theater on Saturday night, "The Licorne Lounge". Featuring live music, comedy, and performances from Matthew Presidente, Leila Neverland, "Call Me Mother" stars Toddy, Ella and Valerie, AND Canada's Drag Race runner-up Scarlett Bobo, this star-studded show is a steal for its $39.99 admission. There will also be over $2000 in door prizes to give away during the night. Doors are at 7 and seating is first come first serve.
Then, on Sunday we're following it up with a drag brunch hosted in tandem with our friends at DunnEnzies in the Mission. Scarlett Bobo, Toddy, Valerie and local girl Ella are sure to entertain you while you stuff your face with food. There will even be a Q&A! Tickets are $40 and must be purchased by the table. Grab your friends and get down there for 11am Sunday.
Both events are being hosted as a kick-off to our upcoming Peak Pride season. This year we have four mountain partners; Red Mountain, Mt Washington, SilverStar and Big White. Each will host a full four-day weekend jam-packed with shows, themes, parades and more! Check out peakpride.lgbt for more details on each event as well as dates.
Everyone is welcome at both events, no matter how you identify. Come join us for a weekend of fun! We can't wait to see you. Tickets to both events are available online at unicorns.link/peak-event-tix
Peak Pride's official airline is Air Canada and is supported by the Canadian Experiences Fund, the Province of British Columbia, VIP Winter and Destinations by Dean. 
All events will follow  Provincial Health Orders and will be updated pending any changes delivered from the province. We will not be having an intermission at the Licorne Lounge to avoid people congregating in any one area.
About Peak Pride
Peak Pride is the world's largest and freshest collection of winter pride events, conceived and produced by Rebellious Unicorns. Peak Pride was born at Big White Ski Resort in 2017.
Peak Pride has grown to include five magnificent ski resorts in the BC Southern Interior: Big White, Sun Peaks (returning 2023), Silver Star, RED Mountain, and new this year, Mt. Washington. Featuring a series of stellar events over the course of an amazing weekend, Peak Pride has something for almost everyone. From family-friendly day activities to high-energy nightlife featuring top-tier local talent, Peak Pride brings our community together like never before. Peak Pride focuses on showcasing local talent, building community, and making life-long friendships. We LOVE to celebrate, but Peak Pride is not a ski resort circuit party. 
About Rebellious Unicorns
Founded in 2017, Rebellious Unicorns is a 100% LGBT2Q+ owned events, broadcasting and media production company, dedicated to leading positive change in the Okanagan and curating inclusive events, experiences, and programming that bring people together. Rebellious Unicorns has produced a variety of in-person events for the LGBT2Q+ community and allies, including the drag-focused extravaganza, FruitCake, and the business social, the MX. One of RUPC's signature events, Peak Pride, is a winter pride festival held at mountain resorts in BC such as Big White, SilverStar, Sun Peaks, and RED Mountain Resort, attracting hundreds of attendees from Western Canada and the Pacific Northwest.
With the onset of the COVID-19 pandemic, Rebellious Unicorns' focus altered drastically when our team launched an online streaming service called Unicorns.LIVE. Unicorns.LIVE offers a platform for various types of entertainment by a diverse collection of creators. The service provides opportunities for participating artists and creators to be compensated for their work along with offering performance opportunities to those who have been adversely affected by the pandemic.
"This company was founded with one goal in mind: to create new, welcoming and inclusive opportunities for people to gather and celebrate," says founder Dustyn Baulkham. "The pandemic brought about significant changes — we're no longer just an events company."
Rebellious Unicorns produces Unicorns.LIVE, Unicorn Booth, Peak Pride, QUSIC, FruitCake, the MX., Voices Unheard, Dirty Mutter, Cub Crawl, and Sunset Sessions.
For more information, please contact:
Dustyn Baulkham, Executive Producer
Pronouns: he/his/him
Rebellious Unicorns Production Company Inc.
Email: dustyn@rebelliousunicorns.com
Phone:
250.826.7197     
Website:
RebelliousUnicorns.com
&
PeakPride.LGBT
Subscribe to our newsletter and receive a selection of cool articles every weeks