MEDIA RELEASE: Drag Brunch at Martens Brewing is BACK!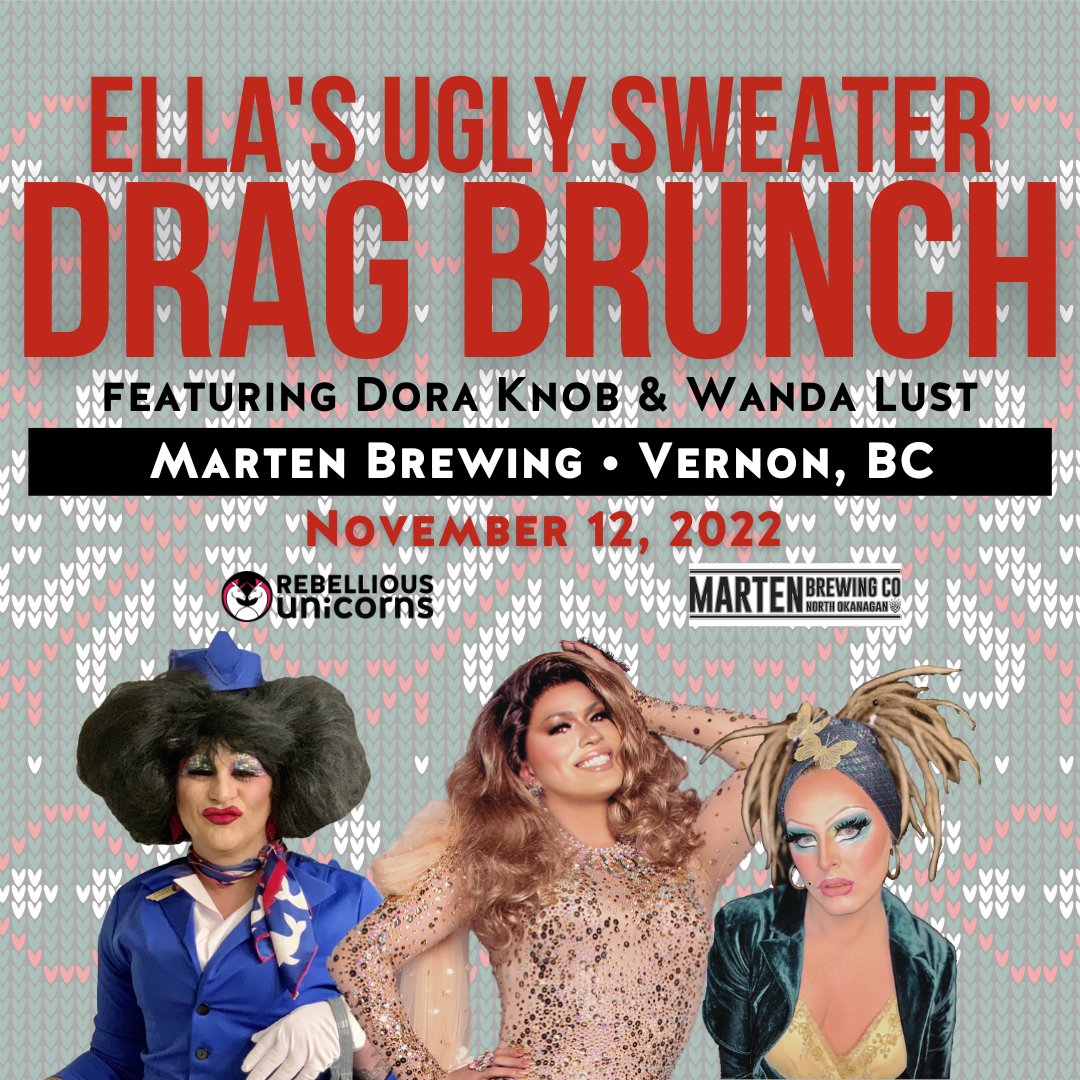 Rebellious Unicorns
Dustyn Baulkham
1-250-826-7197
dustyn@rebelliousunicorns.com CC. christian@rebellliousunicorns.com
November 12th, 2022
Vernon. Ella's Drag Brunch is back at Martens Brewing!
The snow is falling, which means it's ugly sweater time! Come join Ella and friends for a brunch and drag spectacular on November 12th.
[Vernon, BC - November 11th, 2022] After absolutely packing the house during Vernon Pride, Rebellious Unicorns are pleased to announce Ella's Drag Brunch is back once again at Martens Brewing, this time on November 12th with doors at 10AM. 
Back once again is everyone's favourite host Ella Lamoureux! Joining her for this show will be local favourite Wanda Lust and newcomer to the scene Dora Knob. This event is the perfect way to forget about the weather outside and come have some fun while enjoying some killer eats and awesome performances.
The theme for this event is Ugly Sweaters - Think you have the worst attire in Vernon? Come show it off and you could walk away with a prize pack, including some fabulous toques and a growler courtesy of Martens! Tickets for the event start at just $25, and food is NOT included, so come eat as much or as little as you want!
"After a quick sell-out of the Drag Brunch during Vernon Pride we are thrilled to be coming back to Vernon," shares Dustyn Baulkham, Executive Producer of Rebellious Unicorns. "Martens is a great, welcoming space and we love hosting Ella's Drag Brunch there. I also know that Ella is VERY excited to make fun of your ugly Christmas sweaters."
For more details and tickets, please visit rebelliousunicorns.com
###
About Rebellious Unicorns:
Rebellious Unicorns is an Okanagan-based 2SLGTBQ+-focused event and production company. With over five years of experience in event planning, RU has become a backbone of the 2SLGTBQ+ landscape in Canada. Our feature events include Fruitcake, a dance party series, Peak Pride, a mountain-based Pride Festival (hosts: SilverStar, Sun Peaks, Mt. Washington, Red Mountain), and the MX, a queer networking event. With multiple new projects in the works, including a stage show and music event series, RU is poised to continue growing well into the future. For more information and event details, visit Rebelliousunicorns.com
Ella Lamoureux
Ella Lamoureux is one of the founding performers of the Kelowna drag scene. From Kelowna's Next Drag Superstar drag competition, Embodiment, #2muffs1collr, to recent star on Call Me Mother Season 1, Ella has carved out her place as one of the most influential and stunning drag performers in Kelowna. A makeup artist by trade, Ella will eternally tease you with her beauty. But, watch out if you displease her — that tongue is quick and sharper than you think! She's generally "as sweet as cherry pie" and she brings so much love and joy to the community. A true charmer, Ella Lamoureux is Kelowna's Sweetheart.
Dora Knob
Dora Knob made her debut at Kelowna's Next Drag Superstar in June 2019 alongside extra special guest Cinthia Lee Fontaine of RuPaul's Drag Race. She has since performed for Nuit Blanche at the Centre Culturel Francophone de l'Okanagan, Fruitcake of Rebellious Unicorn at Status Nightclub in Vernon, at Friends of Dorothy as well as private events. In July 2020 she was also cast & filmed in a yet to be released short movie production. More recently she has been co-hosting Drag Queen Paint & Sips art classes at Dunnenzies Pizza Mission & Soma Craft Cidery. 
Wanda Lust
Wanda Lust fell in love with drag while travelling around the globe. Inspired by all the artists she met along the way, she's back in her hometown ready to spread the love.
Subscribe to our newsletter and receive a selection of cool articles every weeks