QUSIC: Festive Media Release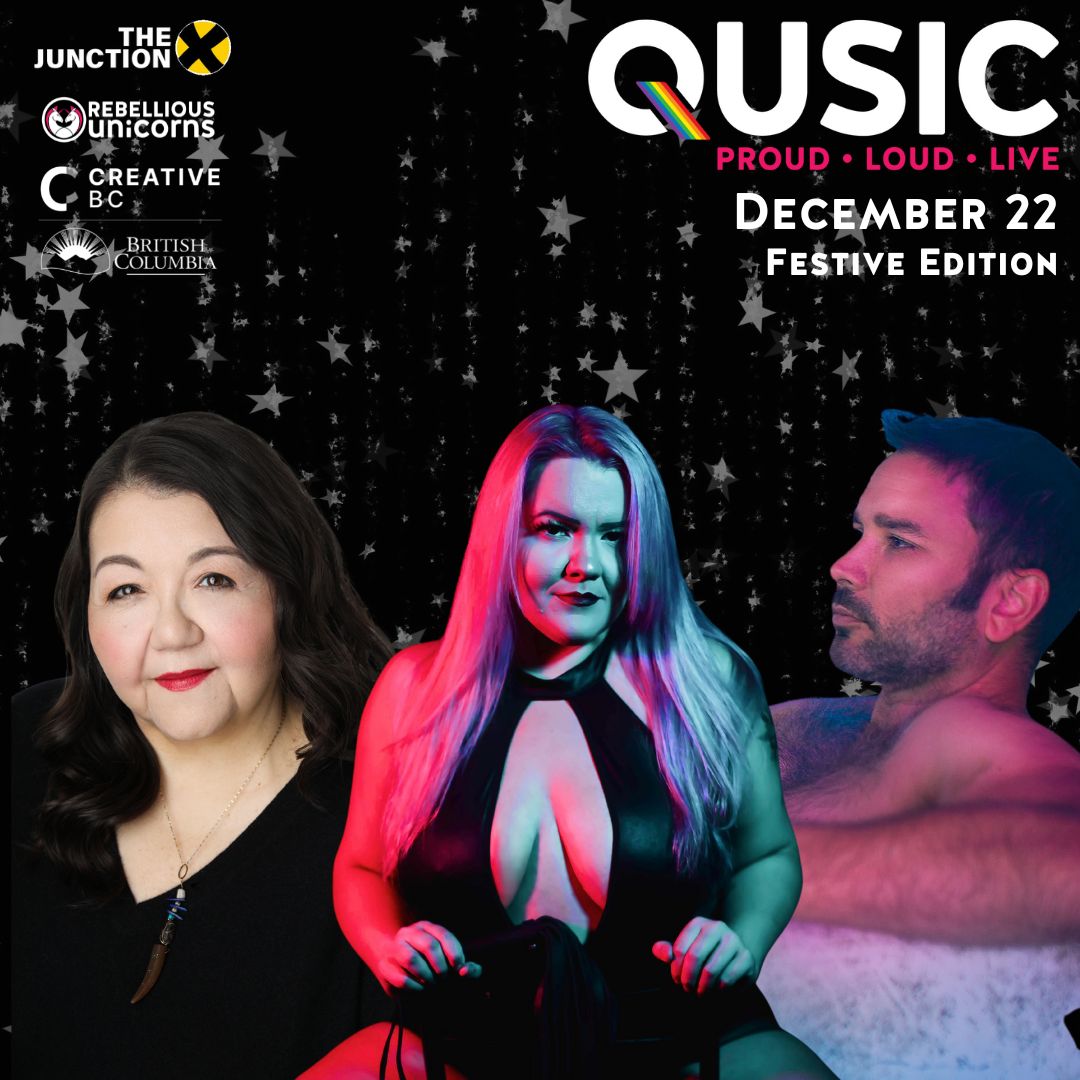 December 13th, 2022
Rebellious Unicorns is excited to announce QUSIC Festive at The Junction.
The live festive themed 2SLGBTQ+ music series will feature performances from Vancouver locals Lola Lovegood, Norine Braun and David Browning.
[Vancouver BC - December 22nd, 2022] — Rebellious Unicorns is pleased to present QUSIC: Festive, in partnership with The Junction, right in the heart of downtown Vancouver. The holiday themed concert features an entirely 2SLGBTQ+ identifying lineup! Performers for the evening show include Lola Lovegood, Norine Braun and David Browning. The event takes place on the evening of December 22nd and begins at 7:30 PM.
"I'm so excited to be hosting another QUSIC in partnership with Junction" says Dustyn Baulkham, creator of the series. "We're excited to build on the success of last month's show, with an eye towards making QUSIC a monthly showcase at Junction where queer artists can perform and hone their talent".
Local Vancouver favourite Matthew Presidente has worked hard to curate an exceptional line-up of 2SLGBTQ+ talent for this festive version of the event. All the musicians featured in the event are local to Vancouver and have experience performing festive themed music. David Browning has even released an entire original album of holiday themed songs.
Want a taste of what the show will sound like? Here is a link for the QUSIC Spotify playlist, which highlights all of the artists included in this show, among many others we've worked with before. Playlist
Tickets for the show start at $10 if purchased in advance. Get your friends together and come enjoy a night of live music and entertainment while supporting local artists and talent in your community. The show is general admission, but purchasing in advance guarantees you a spot and the best price for tickets! 
QUSIC is made possible with the support of Creative BC and Junction.
Tickets, info and more details about everything QUSIC are available on rebelliousunicorns.com
**If you or someone you know identifies as 2SLGBTQ+ and are looking for a space to perform, QUSIC is always seeking new talent! Fill out this form!
###
About Rebellious Unicorns:
Rebellious Unicorns is an Okanagan-based 2SLGBTQ+ focused events and production company. With over five years of experience in event planning, RU has become a backbone of the 2SLGBTQ+ landscape in Canada. Our feature events include Fruitcake, a dance party series, Peak Pride, a mountain-based Pride Festival (hosts: SilverStar, Sun Peaks, Mt. Washington, Red Mountain), and the MX, a queer networking event. With multiple new projects in the works, including a stage show and musical event series, RU is poised to continue growing well into the future. For more information and event details, visit Rebelliousunicorns.com
About QUSIC:
QUSIC is a 2SLGBTQ+ Artist Music Series, produced by Rebellious Unicorns Production Company Inc., in which all presenting artists must identify under the 2SLGTBQ+ spectrum. This innovative series celebrates the 2SLGBTQ+ community, which includes individuals who identify as lesbian, gay, bisexual, transgender, queer and two-spirit as well as a range of other gender and sexual identities. QUSIC features solo performers, duos or group acts, provided that the headlining artist identifies as 2SLGBTQ+. QUSIC supports the growth and development of the Canadian music industry, highlighting artists who identify as 2SLGBTQ+. The music series invests in Canadian talent and will help to grow awareness of 2SLGBTQ+ musical artists, and help to put money in their pockets so that they may continue to pursue their dreams and follow their passions.
Lola Lovegood
Lola Lovegood has been described as a "vocal powerhouse with a sparkling personality," and is well-known around Vancouver both for her amazing vocals and her success as the owner of popular karaoke company Triumph Entertainment. Lola was one of the first featured artists on QUSIC in 2020 and has an impressive resume: she's performed the anthem for the Canucks, the Warriors, and the Whitecaps and performed at Vancouver Pride 2021 + 2022. In 2021, Lola began her journey as a recording artist, and her first single "Come Over" has already created a devoted fan base! Keep up with her on Instagram, where she posts updates on new music and projects."
Norine Braun
Vancouver based singer-songwriter recording artist, Norine Braun released her 13th album, the groove oriented Songs For Trees in 2022. Thanks to a Canada Council For the Arts Award and a First Peoples' Cultural Council Award, Norine set her musings during the ongoing pandemic to focus on climate change and the healing power of trees. Norine has created a transformational musical walk through a west coast forest to help enlighten and inspire. Nominated for a 2018 Western Canadian Music Award, an LA Independent Music Award winner and a winner of SIBL International Songwriting Competition. Norine's ancestry is Metis and Ukrainian and self identifies as Two Spirit. Stuart Derdeyn named Songs For Trees in The Vancouver Sun as "one of 5 albums you need to hear!"  Charted on SiriusXM Indigenous Music Countdown reaching the Top 10.
Norine also released her 12th full-length bluesy roots rock album December Falls in December 2020 "Vancouver based blues-rock singer-songwriter Norine Braun has cooked up a Christmas album during her time in quarantine that offers up several swingin' new holiday-tinged tracks and peppers in her rowdy take on some old chestnuts. The veteran songstress' new tracks frame the season in a new way, shirking the traditional style much in the way rock n roll originally came in and rebranded the idea of Christmas by the likes of Brenda Lee and Elvis Presley. December Falls encapsulates the whole period of transition that comes with the new year, not just the day itself. God knows we're all ready for a transition!" J. Ireson. Stuart Derdeyn named it one of 5 albums worth putting under your tree too!  Alice Fraser, Norine's partner, will join on keys and harmony vocals for this holiday event!
David Browning
David Browning is a Vancouver based singer/songwriter who loves creating music. From growing up in South Africa then working on Disney Cruiseline, to Recording electropop in Bali, his various life experiences contribute to a unique queer perspective. 
He released his debut solo album 'Daddy's Issues' produced by Ian Prince in 2020 followed closely by a Christmas Album 'Christmas Presence.'
From fun, quirky and catchy; upbeat and inspiring to heartfelt ballads, David loves performing live and connecting with audiences in intimate settings. He is currently working on a follow up album set to be released before the end of the year.
Matthew Presidente
Vancouver's piano man, Matthew Presidente (he/him/his) is a bold rock/pop songwriter. Whether performing solo or with his full band, his music's honest queer perspective invokes nostalgia, small town memories and challenges you to reflect on an exciting journey of self discovery.
Referred to as "one of — if not ­— the best singer/songwriters our LGBT scene has" by Xtra Magazine (Vancouver), Matty has performed among headliners such as Ace of Base, Dragonette and even shared a stage with Patti Smith! He's showcased his original material at notable music venues such as The Roxy, The Railway Club, The Backstage Lounge, XYYVR and Numbers Cabaret. An advocate for queer art, he has been enthusiastically recognized on the Vancouver Main Stages (for over 12 years!), across the country, and internationally. Most recently he toured the mountains of BC for Peak Pride spreading queer entertainment through the province.
He's currently recording a new full band album with songs speaking of loss, life changes and ultimately evolution. You can hear the first single, 'A-List', now on all streaming platforms.
Social Links:
Subscribe to our newsletter and receive a selection of cool articles every weeks