Unwrap the Glam: The "Basically Ella" Holiday Special Extravaganza!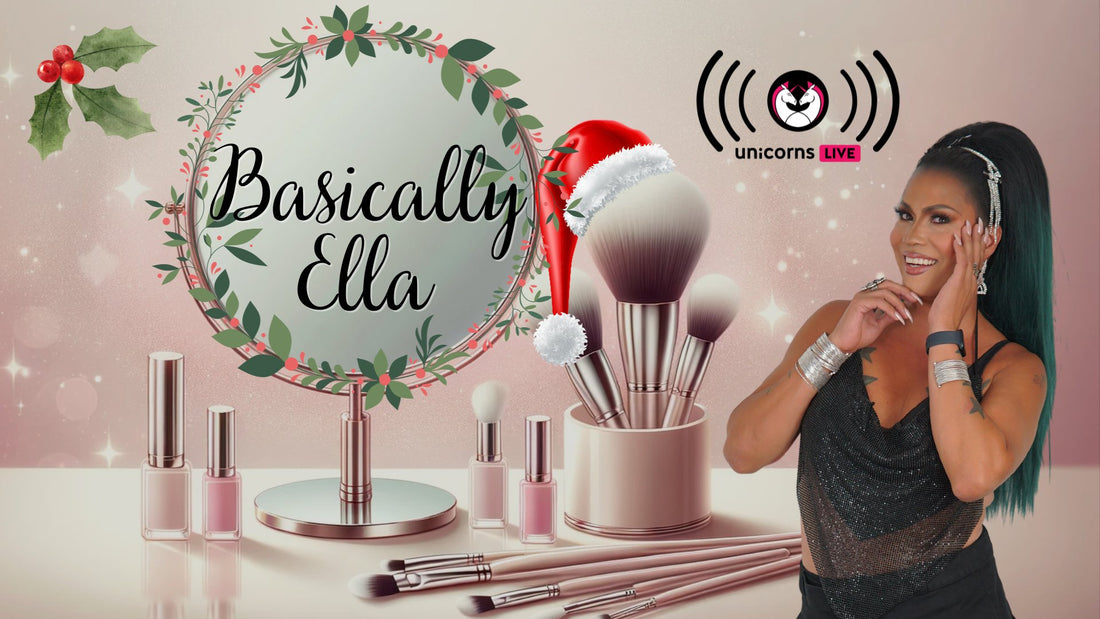 Ho-ho-hold onto your makeup brushes, beauties and beaus! The season of sparkle is upon us, and who better to guide us through the glitz and glam than the fabulous Ella Lamoureux herself? That's right, our beloved drag queen and makeup virtuoso is decking the halls and our faces with a three-part holiday special of "Basically Ella," and you're invited to join the live sleigh ride!
Exclusive Offer: Try Unicorns.LIVE Free for 30 Days!
Before we dive into the festive details, we've got an early gift for you! For a limited time only, get a
free 30-day trial of Unicorns.LIVE
, the platform where all the magic happens. Don't miss your chance to catch Ella and a glittering array of other content, live and direct from the unicorn's mouth! Sign up now and be part of the holiday extravaganza, along with enjoying a ho-ho-host of other fabulous shows!
Look #1: "Single and Looking"
-
**UPDATE - Recording available starting at 9:00AM PST on Nov 16th**
Premiering Live on Nov 6th
Kick-off your holiday season with a bang on November 6th, as Ella presents "Single and Looking." This isn't just a makeup tutorial; it's a masterclass in radiance. Whether you're looking to catch the eye of a certain someone or simply want to dazzle at your next holiday gathering, Ella's got your back. Expect to learn how to create a look that's warm, inviting, and impossible to ignore, with a side of Ella's irresistible charm. Mark your calendars for the livestream, because this is one holiday party you won't want to miss!
Look #2: "Step Outside Your Comfort Zone"
-
**UPDATE - Recording available starting 9:00AM PST on Nov 18** 
Streaming on Nov 7th
Feeling a little frosty? Heat things up on November 7th with "Step Outside Your Comfort Zone." Ella will encourage you to embrace the bold and beautiful you with a pop of unexpected lip color. This episode is all about breaking away from the traditional and trying on something new, just in time for the holidays. Let your lips do the talking at your next holiday event and watch the livestream to find out how a single swipe of color can redefine your entire look. Get ready to pucker up and play with hues that say "I'm here for the holiday cheer!"
Look #3: "HO-liday Hussy"
- **UPDATE - Recording available starting 9:00Am PST on Nov 20th** Concluding on Nov 9th
Wrap up the special with a bow on November 9th, as Ella gets a little naughty with "Holiday Hussy." This tantalizing tutorial promises to blend a pinch of sugar and a whole lot of spice to create a look that's naughty, nice, and everything in between. From shimmering shadows to glistening highlights, Ella will show you how to be the star on top of the holiday party scene. Whether you're sashaying through a swanky soiree or hosting a cozy get-together, tune into the livestream for all the tips and tricks.
After the Livestream: Edited Episodes Coming in Late November
Can't join the live magic? Fret not! The livestream recordings of "Basically Ella" will be edited down into polished episodes, packaged with all the holiday joy you could wish for, and released later in November. So you can still get your fill of Ella's holiday wisdom and wit, all on your own schedule.
The "Basically Ella" holiday special is more than just makeup; it's about embracing who you are and shining brighter than the fairy lights. So, gather your makeup kits and join us for three nights of fabulous fun. Let's jingle bell rock our way to a festive and fierce finish to the year!
And remember, in the wise words of Ella, "Makeup is the tinsel on the tree of your look – so let's make it sparkle!"
Don't forget to follow us for updates, set your reminders for the live events, and get ready to sleigh with style. Happy holidays, and may your makeup be merry and bright! 🌟🎄💋
Subscribe to our newsletter and receive a selection of cool articles every weeks