Dive into the Magical World of Unicorns.LIVE with a Free 30-Day Trial!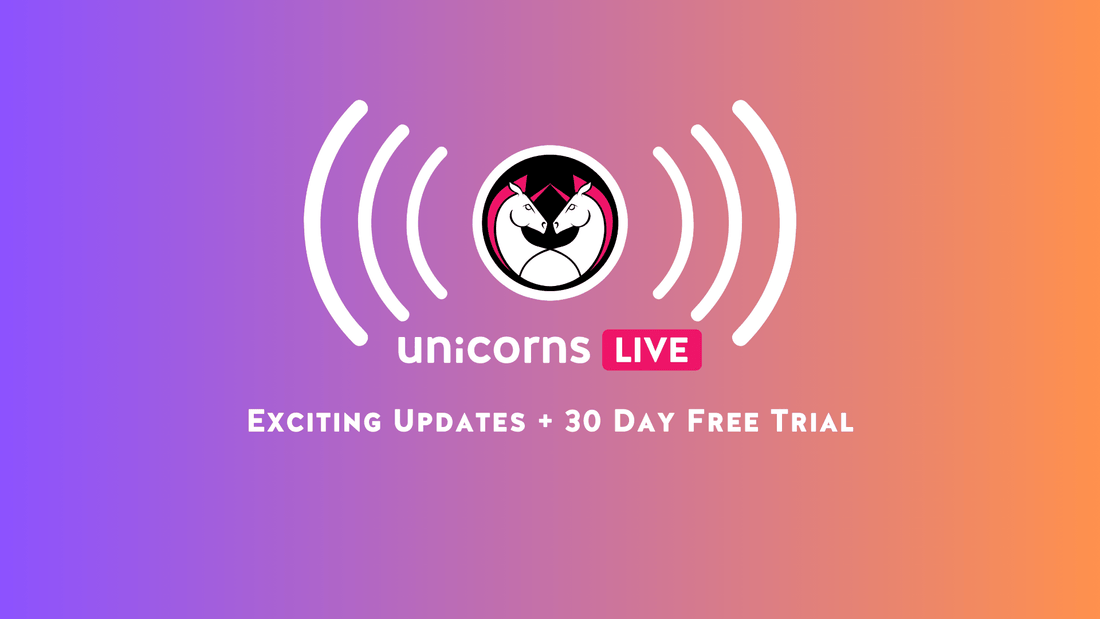 Dive into the Magical World of Unicorns.LIVE with a Free 30-Day Trial!
Greetings, Rebel Spirits!
Are you ready to sprinkle some extra magic into your daily routine? Well, the enchanting universe of Unicorns.LIVE is just a click away, and we're kicking off the festivities with a *
FREE 30-Day Trial
*! It's our little invitation to you to explore the myriad of wonders we have in store.
Your Ultimate Entertainment Calendar
Lost in the digital jungle, looking for some stellar entertainment? Fear not! Our comprehensive
Unicorns.LIVE calendar
 is now available both online and on mobile apps, guiding you through an array of upcoming streams and fresh content releases. It's like having a rainbow map to your next favorite show!
Bingo Nights with a Twist
Ready to yell "Bingo" at the top of your lungs? Our
Weekly Virtual Bingo
is more than just a game—it's a treasure hunt for gift cards redeemable at over 80 major retailers. This is your chance to score some serious swag while having a blast with your fellow Unicorns.LIVE members.
Ella's Holiday Spectacular
Spotlights on *Basically Ella*, returning to the limelight with a 3-part Holiday Special that's sure to add some shimmer to your wardrobe:
-
Look 1: Single & Looking
– Discover how to stand out in the crowd and catch someone's eye.
-
Look 2: Color Lip Confidence
– Step outside your comfort zone and let your lips do the talking.
-
Look 3: Holiday Hussy
– Unleash your festive flirt with looks that slay the holiday game.
A Call to Queerprenuers
It's time for *
Queerprenuers Unleashed
*! We're on the quest for 2SLGBTQ+ entrepreneurs ready to dazzle the world with their stories of triumph, challenge, and innovation. If you're itching to share your entrepreneurial journey with an empathetic community,
let us know
and step into the spotlight.
Musical Brews at Red Bird Brewing
For those who have yet to experience the auditory delight of Red Bird Brewing's live music streams, you're in for a treat. Quality tunes and vibrant vibes are brewing, promising you a front-row seat to the best live performances around.
Connecting the Community
We're thrilled to unveil our *new community feature*, offering you a safe and exciting platform to connect with like-minded unicorns away from the noise of the mainstream social media. It's your cozy corner in the digital cosmos to meet and mingle with fellow rebels.
The Content Cornucopia
Hold on tight because there's a deluge of new content on the horizon! We're talking podcasts that tickle your intellect, games that challenge your wit, and live music sessions that make your heart sing. At Unicorns.LIVE, the fun never ends, and the community never stops growing.
Join us at Unicorns.LIVE, where every day is a celebration of the unique, the bold, and the rebellious. Remember, we're more than a brand; we're a movement powered by you—our vibrant community of Unicorns.
Stay bold, stay brilliant, and above all, stay rebellious!
Unicorns.LIVE
*Crafting Unique Experiences for Unique People* 🦄✨
Subscribe to our newsletter and receive a selection of cool articles every weeks