MEDIA RELEASE: Dirty Mutter returns August 20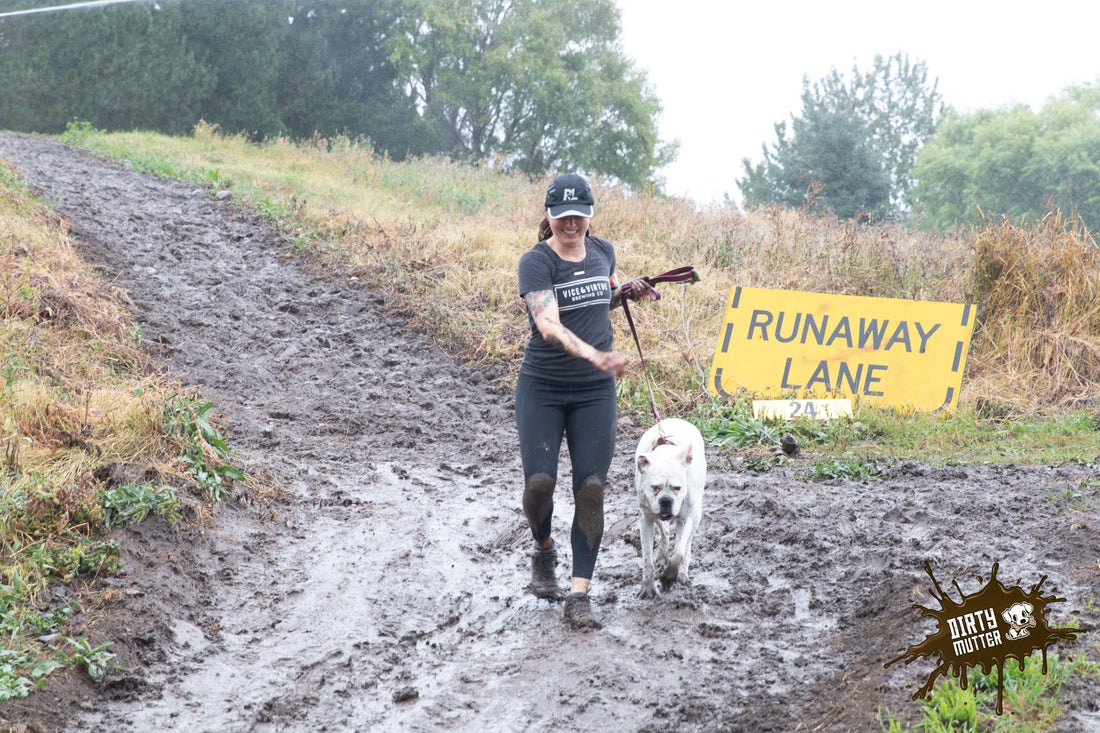 Kelowna - Grab your canine best friend and come get MUDDY! After a two year hiatus, Dirty Mutter is finally back. Join us on Saturday, August 20th for a day of mud, fun, obstacles, and most importantly, memories.
Rebellious Unicorns and Results 4 Life Fitness, along with our presenting partner, Tail Blazers Kelowna, are thrilled to announce the return of Dirty Mutter, Kelowna's premier canine/owner obstacle course.
We're pleased to partner with Rescue Ranch as the location for our course! We have been assured their animals are very excited to cheer on our participants. A portion of the event proceeds will also be donated to them to help support their animal rescue efforts.
This year's course will consist of obstacles such as: tunnels, tire jumps, seesaws, hurdles, mud crawl, Zucchini carry, A-frames, log jumps and will stretch for about 1.5kms. Rest assured this will give you plenty of time to get covered in mud!
Tickets start at $49, and heats are available throughout the day to run. We also have gift packs for each furry participant, courtesy of our sponsors and friends! So join us on August 20th to have fun, go for a run, and support a great cause.
Tickets and details can be found at https://unicorns.link/dirty-mutter-2022
Pictures & Images can be found on our Drive.
*   *   *
About Rebellious Unicorns
Founded in 2017, Rebellious Unicorns is a 100% LGBT2Q+ owned events, broadcasting and media production company, dedicated to leading positive change in the Okanagan and curating inclusive events, experiences, and programming that bring people together. Rebellious Unicorns has produced a variety of in-person events for the LGBT2Q+ community and allies, including the drag-focused extravaganza, FruitCake, and the business social, the MX. One of RUPC's signature events, Peak Pride, is a winter pride festival held at mountain resorts in BC such as Big White, SilverStar, Sun Peaks, and RED Mountain Resort, attracting hundreds of attendees from Western Canada and the Pacific Northwest.
With the onset of the COVID-19 pandemic, Rebellious Unicorns' focus altered drastically when our team launched an online streaming service called Unicorns.LIVE. Unicorns.LIVE offers a platform for various types of entertainment by a diverse collection of creators. The service provides opportunities for participating artists and creators to be compensated for their work along with offering performance opportunities to those who have been adversely affected by the pandemic.
"This company was founded with one goal in mind: to create new, welcoming and inclusive opportunities for people to gather and celebrate," says founder Dustyn Baulkham. "The pandemic brought about significant changes — we're no longer just an events company."
Rebellious Unicorns produces Unicorns.LIVE, Unicorn Booth, Peak Pride, QUSIC, FruitCake, the MX., Voices Unheard, Dirty Mutter, Cub Crawl, and Sunset Sessions.
About Rescue Ranch
Rescue Ranch Society is a non profit animal rescue located in Black Mountain. We provide a loving, caring environment for every animal that calls Rescue Ranch home. Each animal that comes to us has a different story; some may be injured and need care, some because of a medical condition or age and some because a proper home could no longer be provided for them. Regardless of the reasons, we do our best to keep them happy, healthy, safe and loved.
Currently Rescue Ranch is home to 3 beautiful horses, 8 adorable goats, 2 amazing sheep, 1 super donkey, 1 incredible llama, 1 gorgeous pig, 4 stunning ducks, 4 awesome chickens, 2 incredible dogs and 3 wonderful cats.
About Results 4 Life Fitness Inc.
Results 4 Life Fitness opened its doors in 2012 and has been providing Kelowna with indoor and outdoor fitness classes and personal training ever since. Obstacle race training has been a big part of  R4L for many years, hence the excitement for an obstacle race for dogs. Results 4 Life Fitness offers either a private training studio or a beautiful outdoor training facility. No matter what your fitness goals are or what your fitness level is, we will help you reach your potential and have fun getting there.
For more information, please contact:
Dustyn Baulkham, Executive Producer
Pronouns: he/his/him
Rebellious Unicorns Production Company Inc.
Email: dustyn@rebelliousunicorns.com
Phone: 250.826.7197      Website: RebelliousUnicorns.com
Subscribe to our newsletter and receive a selection of cool articles every weeks