MEDIA RELEASE: Drag and Wine? What a perfect Okanagan day!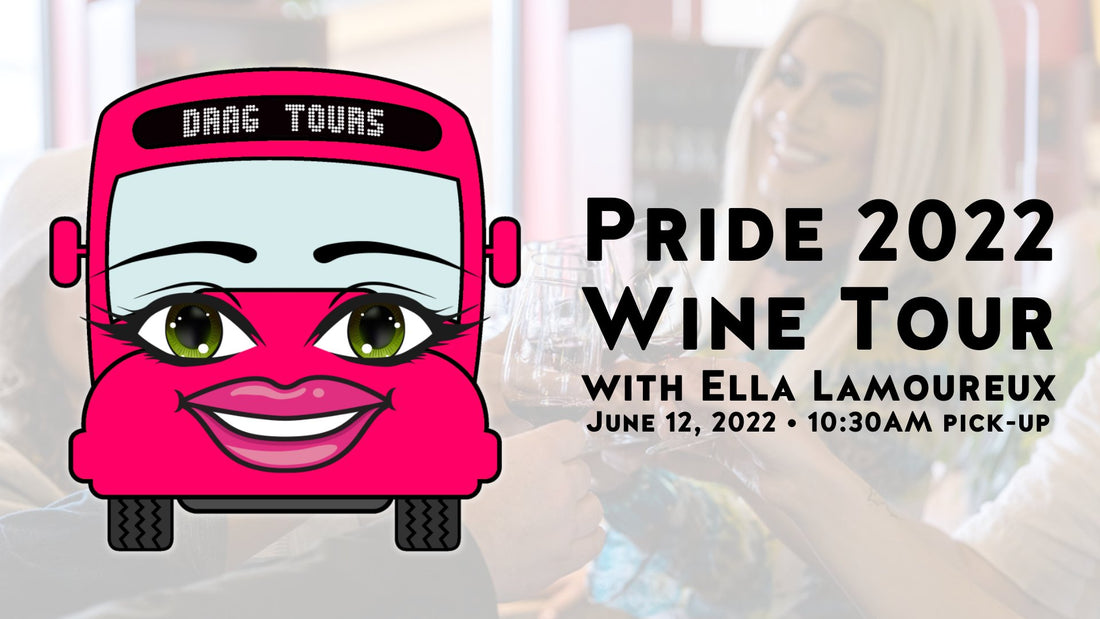 Kelowna - Rebellious Unicorns and Ella Lamoureux are pleased to launch Drag Tours, just in time for Kelowna Pride 2022!
Photos for Drag Tours can be found here
Imagine being on a glorious wine tour, visiting some of the Okanagan's best wineries… and then having Two-Spirit Goddess Ella Lamoureux there to entertain and tease you the entire time you're doing that. That's Drag Tours. No one is safe, but absolutely everyone is welcome. 
For Pride Week 2022, our featured wineries will be Frind, Indigenous World, The Hatch and Volcanic Hills! We are so proud to partner with these amazing wineries, and thank them for their support.
Especially for Pride, we'll be offering an introductory price of $199 per person!
While we're launching for Pride, tours will continue throughout the summer as demand permits. We're expecting tickets to sell out quickly, so what are you waiting for? Get your tickets now at rebelliousunicorns.com.
*   *   *
About Your Host - Ella Lamoureux
Ella Lamoureux is one of the founding performers of the Kelowna drag scene. From Kelowna's Next Drag Superstar drag competition, Embodiment, #2muffs1collr, to recent star on Call Me Mother, Ella has carved out her place as one of the most influential and stunning drag performers in Kelowna. A makeup artist by trade, Ella will eternally tease you with her beauty. But, watch out if you displease her — that tongue is quick and sharper than you think! She's generally "as sweet as cherry pie" and she brings so much love and joy to the community. A true charmer, Ella Lamoureux is Kelowna's Sweetheart.
We respectfully acknowledge that this tour takes place on the unceded, traditional territory of the syilx (Okanagan) people. To learn more about the syilx nation please visit their website.
*   *   *
About Rebellious Unicorns
Founded in 2017, Rebellious Unicorns is a 100% LGBT2Q+ owned events, broadcasting and media production company, dedicated to leading positive change in the Okanagan and curating inclusive events, experiences, and programming that bring people together. Rebellious Unicorns has produced a variety of in-person events for the LGBT2Q+ community and allies, including the drag-focused extravaganza, FruitCake, and the business social, the MX. One of RUPC's signature events, Peak Pride, is a winter pride festival held at mountain resorts in BC such as Big White, SilverStar, Sun Peaks, and RED Mountain Resort, attracting hundreds of attendees from Western Canada and the Pacific Northwest.
With the onset of the COVID-19 pandemic, Rebellious Unicorns' focus altered drastically when our team launched an online streaming service called Unicorns.LIVE. Unicorns.LIVE offers a platform for various types of entertainment by a diverse collection of creators. The service provides opportunities for participating artists and creators to be compensated for their work along with offering performance opportunities to those who have been adversely affected by the pandemic.
"This company was founded with one goal in mind: to create new, welcoming and inclusive opportunities for people to gather and celebrate," says founder Dustyn Baulkham. "The pandemic brought about significant changes — we're no longer just an events company."
Rebellious Unicorns produces Unicorns.LIVE, Unicorn Booth, Peak Pride, QUSIC, FruitCake, the MX., Voices Unheard, Dirty Mutter, Cub Crawl, and Sunset Sessions.
For more information, please contact:
Dustyn Baulkham, Executive Producer
Pronouns: he/his/him
Rebellious Unicorns Production Company Inc.
Email: dustyn@rebelliousunicorns.com
Phone: 250.826.7197      Website: RebelliousUnicorns.com
Subscribe to our newsletter and receive a selection of cool articles every weeks