MEDIA RELEASE: Two Fabulous Drag Shows for May Long Weekend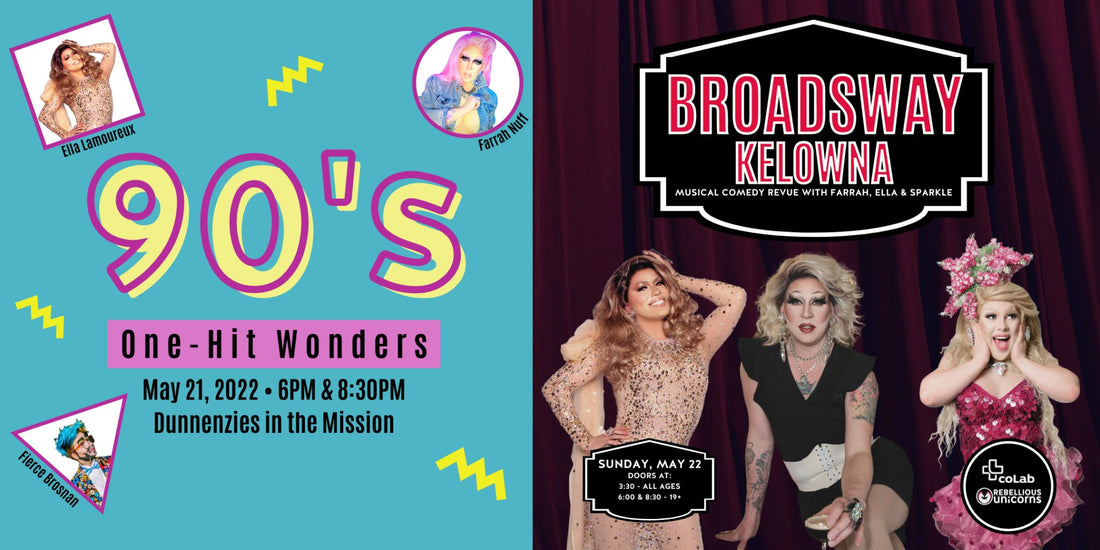 Kelowna - It's a double dip long weekend with two stellar drag shows lined up to help fill up your May long weekend! Featuring Calgarys's Farrah Nuff, be sure to catch one, or both, of the shows as she won't be in town long.
The stellar drag weekend kicks off on Saturday, May 21st at DunnEnzies in the Mission with a 90's One Hit Wonders themed spectacle! Join Farrah Nuff, Ella Lamoureux, and Fierce Bronson as they pick some classic 90's hits to perform for you. While the songs might have been one hit wonders, the performances sure won't be! This event will feature two seatings, one at 6pm, and another at 8:30. 
Then on Sunday night, Farrah Nuff is pleased to bring to Kelowna a show she founded, Broadsway! Featuring performances synced to some of broadway's greatest hits, this show is sure to astound. Joining her will be local favourites Ella Lamoureux and Sparkle! This show will feature three sittings, including an early afternoon all ages show! Have you been waiting to take the young drag fan in your life to their first performance? Well now's your chance!
Rebellious Unicorns is pleased to be an organizing partner of both shows, and is thankful for the support from both Okanagan coLab and DunnEnzies. 
Tickets to both shows are available online at rebelliousunicorns.com and start at just $20. Join us for a glamorous weekend. We'll see you there!
*   *   *
Ella Lamoureux
Ella Lamoureux is one of the founding performers of the Kelowna drag scene. From Kelowna's Next Drag Superstar drag competition, Embodiment, #2muffs1collr, to recent star on Call Me Mother, Ella has carved out her place as one of the most influential and stunning drag performers in Kelowna. A makeup artist by trade, Ella will eternally tease you with her beauty. But, watch out if you displease her — that tongue is quick and sharper than you think! She's generally "as sweet as cherry pie" and she brings so much love and joy to the community. A true charmer, Ella Lamoureux is Kelowna's Sweetheart.
Farrah Nuff
Calgary's dancing queen, Farrah has been gracing the stage as a performer for nearly 20 years, fifteen as a drag entertainer. Co-owner of HireHeelsYYC her passion for performing and the well being of her fellow performers, Hireheelsyyc brought smiles and joy to thousands of Calgarians through curb side drag shows throughout the recent pandemic.  The matriarch of the Nuff family, she believes in the importance of shared experience and togetherness within art. You can catch Farrah all over Calgary, Instagram, Twitch, and in your dreams!

Fierce Brosnan
Fierce Brosnan stormed the Kelowna Drag scene a year ago and came about through a collaboration of a few drinks, some unencumbered ambition to entertain along with a friend being cheeky and secretly signing him up for an amateur night. It's been all laughs, 90s boybands and early 2000s renditions ever since. Why be you, when you can be 'Fierce' instead? ⚡

Sparkle
She twinkles, she glistens, she sparkles…and she's the Okanagan's cocktail queen! Known for her energy, charisma, sassy wit, and fabulous blonde hair, Sparkle (she/her) serves up a delicious combination of glamour, alcohol, and witty repartee.

*   *   *
About Rebellious Unicorns
Founded in 2017, Rebellious Unicorns is a 100% LGBT2Q+ owned events, broadcasting and media production company, dedicated to leading positive change in the Okanagan and curating inclusive events, experiences, and programming that bring people together. Rebellious Unicorns has produced a variety of in-person events for the LGBT2Q+ community and allies, including the drag-focused extravaganza, FruitCake, and the business social, the MX. One of RUPC's signature events, Peak Pride, is a winter pride festival held at mountain resorts in BC such as Big White, SilverStar, Sun Peaks, and RED Mountain Resort, attracting hundreds of attendees from Western Canada and the Pacific Northwest.
With the onset of the COVID-19 pandemic, Rebellious Unicorns' focus altered drastically when our team launched an online streaming service called Unicorns.LIVE. Unicorns.LIVE offers a platform for various types of entertainment by a diverse collection of creators. The service provides opportunities for participating artists and creators to be compensated for their work along with offering performance opportunities to those who have been adversely affected by the pandemic.
"This company was founded with one goal in mind: to create new, welcoming and inclusive opportunities for people to gather and celebrate," says founder Dustyn Baulkham. "The pandemic brought about significant changes — we're no longer just an events company."
Rebellious Unicorns produces Unicorns.LIVE, Unicorn Booth, Peak Pride, QUSIC, FruitCake, the MX., Voices Unheard, Dirty Mutter, Cub Crawl, and Sunset Sessions.
For more information, please contact:
Dustyn Baulkham, Executive Producer
Pronouns: he/his/him
Rebellious Unicorns Production Company Inc.
Email: dustyn@rebelliousunicorns.com
Phone: 250.826.7197      Website: RebelliousUnicorns.com & PeakPride.LGBT
Subscribe to our newsletter and receive a selection of cool articles every weeks